The Truth About Fat
The idea that saturated fat is bad for us makes a kind of instinctive sense, and not just because we use the same phrase to describe both the greasy stuff that gives our steak flavor and the pounds we carry around our middles. Chemically, they're not all that different. The fats that course through our blood and accumulate on our bellies are called triglycerides, and high levels of triglycerides have been linked to heart disease. It doesn't take much of an imaginative leap to assume that eating fats would make us fat, clog our arteries and give us heart disease. "It sounds like common sense–you are what you eat," says Dr. Stephen Phinney, a nutritional biochemist who has studied low-carb diets for years.
But when scientists crunch the numbers, the connection between saturated fat and cardiovascular disease becomes more tenuous. A 2010 meta-analysis–basically a study of other studies–concluded that there was no significant evidence that saturated fat is associated with an increased risk of cardiovascular disease. Those results were echoed by another meta-analysis published in March in the Annals of Internal Medicine that drew on nearly 80 studies involving more than half a million subjects. A team led by Dr. Rajiv Chowdhury, a cardiovascular epidemiologist at Cambridge University, concluded that current evidence does not support low consumption of saturated fats or high consumption of the polyunsaturated fats that are often considered heart healthy. Though the authors came under criticism for the way they evaluated the evidence, they stand behind the conclusion, noting that the aim of their study is to show the need for more research. "The main message is that there's a lot more work that needs to be done," says Chowdhury.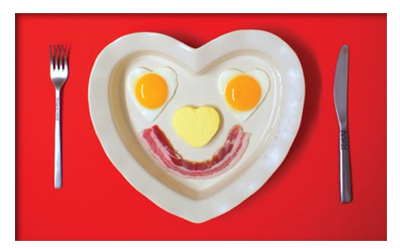 Given that the case on saturated fat was long considered closed, even calls to re-examine the evidence mark a serious change. But if the new thinking about saturated fats is surprising, it may be because we've misunderstood what meat and dairy do to our bodies. It's incontrovertibly true that saturated fat will raise LDL-cholesterol levels, which are associated with higher rates of heart disease. That's the most damning biological evidence against saturated fat. But cholesterol is more complicated than that.
Saturated fat also raises levels of the so-called good HDL cholesterol, which removes the LDL cholesterol that can accumulate on arterial walls. Raising both HDL and LDL makes saturated fat a cardio wash.
Plus, scientists now know there are two kinds of LDL particles: small, dense ones and large, fluffy ones.
The large ones seem to be mostly harmless–and it's the levels of those large particles that fat intake raises. Carb intake, meanwhile, seems to increase the small, sticky particles that now appear linked to heart disease. "Those observations led me to wonder how strong the evidence was for the connection between saturated fat and heart disease," says Dr. Ronald Krauss, a cardiologist and researcher who has done pioneering work on LDL. "There's a risk that people have been steered in the wrong direction by using LDL cholesterol rather than LDL particles as a risk factor."
It's important to understand that there's no such thing as a placebo in a diet study. When we reduce levels of one nutrient, we have to replace it with something else, which means researchers are always studying nutrients in relation to one another. It's also important to understand that the new science doesn't mean people should double down on cheeseburgers or stir large amounts of butter into their morning coffee, as do some adherents of ultra-low-carb diets. While saturated fat increasingly seems to have at worst a neutral effect on obesity and heart disease, other forms of fat may be more beneficial.
There's evidence that omega-3s, the kind of fat found in flaxseed and salmon, can protect against heart disease. A 2013 study in the New England Journal of Medicine found that a diet rich in polyunsaturated and monounsaturated fats significantly reduced the risk of major cardiovascular events.
And there is variety even within the category of saturated fats. A 2012 study found that fats in dairy - now the source from which Americans get most of their saturated fat–seem to be more protective than the fats found in meat. "The main issue here is comparative," says Dr. Frank Hu, a nutrition expert at the Harvard School of Public Health. "What are you comparing saturated fat to?"
The Unintended Diet
The food industry is nothing if not inventive. Faced with a fatwa against fat in the 1980s, manufacturers adjusted, lining grocery shelves with low-fat cookies, crackers and cakes. The thinking for consumers was simple: Fat is dangerous, and this product has no fat; therefore it must be healthy. This was the age of SnackWells, the brand of low-fat cookies introduced by Nabisco in 1992 that within two years had surpassed the venerable Ritz cracker to become the No. 1 snack in the nation. But without fat, something had to be added, and Americans wound up making a dangerous trade. "We just cut fat and added a whole lot of low-fat junk food that increased caloric intake," says Dr. David Katz, the founding director of Yale University's Prevention Research Center. "It was a diet of unintended consequences."
Those consequences have been severe. From 1971 to 2000, the percentage of calories from carbohydrates increased nearly 15%, while the share of calories from fat fell–in line with expert recommendations. In 1992, the USDA recommended up to 11 servings a day of grains, compared with just two to three servings of meat, eggs, nuts, beans and fish combined. School districts across the country have banned whole milk, yet sweetened chocolate milk remains on the menu as long as it's low- fat.
The idea here was in part to cut calories, but Americans actually ended up eating more: 2,586 calories a day in 2010 compared with 2,109 a day in 1970. Over that same period, calories from flour and cereals went up 42%, and obesity and Type 2 diabetes became veritable epidemics. "It's undeniable we've gone down the wrong path," says Jeff Volek, a physiologist at the University of Connecticut.
It can be hard to understand why a diet heavy on refined carbs can lead to obesity and diabetes. It has to do with blood chemistry. Simple carbs like bread and corn may not look like sugar on your plate, but in your body, that's what they're converted to when digested. "A bagel is no different than a bag of Skittles to your body," says Dr. Dariush Mozaffarian, the incoming dean of nutrition science at Tufts University.
Those sugars stimulate the production of insulin, which causes fat cells to go into storage overdrive, leading to weight gain. Since fewer calories are left to fuel the body, we begin to feel hungry, and metabolism begins to slow in an effort to save energy. We eat more and gain more weight, never feeling full. "Hunger is the death knell of a weight-loss program," says Duke's Westman. "A low-fat, low-calorie diet doesn't work." Because as this process repeats, our cells become more resistant to insulin, which causes us to gain more weight, which only increases insulin resistance in a vicious circle. Obesity, Type 2 diabetes, high triglycerides and low HDL can all follow–and fat intake is barely involved. All calories, it turns out, are not created equal. "When we focus on fat, carbohydrates inevitably increase," says Ludwig, who co-wrote a recent JAMA commentary on the subject. "You wouldn't give lactose to people who are lactose intolerant, yet we give carbs to people who are carb intolerant."
Ultra-low-carb diets have come in and out of vogue since Dr. Robert Atkins first began promoting his version nearly 50 years ago. (It has never been popular with mainstream medicine; the American Diabetic Association once referred to the Atkins diet as a "nutritionist's nightmare.") Studies by Westman found that replacing carbohydrates with fat could help manage and even reverse diabetes. A 2008 study in the New England Journal of Medicine that looked at more than 300 subjects who tried either a low-fat, a low-carb or a Mediterranean-style diet found that people on the low-fat diet lost less weight than those on the low-carb or Mediterranean diet, both of which feature high amounts of fat. Those results aren't surprising–study after study has found that it's very difficult to lose weight on a very low-fat diet, possibly because fat and meat can produce a sense of satiety that's harder to achieve with carbs, making it easier to simply stop eating.
Not every expert agrees. Dr. Dean Ornish, founder of the nonprofit Preventive Medicine Research Institute, whose low-fat, almost vegan diet has been shown in one study to reverse arterial blockage, worries that an increase in animal-protein consumption can come with health problems of its own, pointing to studies that link red meat in particular to higher rates of colon cancer. There's also the uncomfortable fact that meat, especially beef, has an outsize impact on the planet. Nearly a third of the earth's total ice-free surface is used in one way or another to raise livestock. Even if eating more fat is better for us–which Ornish doesn't believe–it could carry serious environmental consequences if it leads to a major increase in meat consumption. "These studies just tell people what they want to hear," says Ornish. "There's a reductionist tendency to look for the one magic bullet."
The war over fat is far from over. Consumer habits are deeply formed, and entire industries are based on demonizing fat. TV teems with reality shows about losing weight. The aisles are still filled with low-fat snacks. Most of us still feel a twinge of shame when we gobble down a steak. And publishing scientific research that contradicts or questions what we have long been told about saturated fat can be as difficult now as it was for Willett in the '90s. Even experts like Harvard's Hu, who says people shouldn't be concerned about total fat, draw the line at fully exonerating saturated fat. "I do worry that if people get the message that saturated fat is fine, they'll [adopt] unhealthy habits," he says. "We should be focusing on the quality of food, of real food."
Nearly every expert agrees we'd be healthier if more of our diet were made up of what the writer Michael Pollan bluntly calls "real food." The staggering rise in obesity over the past few decades doesn't just stem from refined carbohydrates messing with our metabolism. More and more of what we eat comes to us custom-designed by the food industry to make us want more. There's evidence that processing itself raises the danger posed by food. Studies suggest that processed meat may increase the risk of heart disease in a way that unprocessed meat does not.
How we eat–whether we cook it ourselves or grab fast-food takeout–matters as much as what we eat. So don't feel bad about the cream in your coffee or the yolks in your eggs or the occasional steak with béarnaise if you've got the culinary chops–but don't think that the end of the war on fat means all the Extra Value Meals you can eat. As Katz puts it, "the cold hard truth is that the only way to eat well is to eat well." Which, I'm thankful to note, doesn't have to include skim milk.
Print Page